Генератор шрифтов Fontello
После написания статьи об использовании символов UTF в качестве иконок для дизайна, в комментариях мне посоветовали обратить внимание на сервис Fontello. Он автоматически собирает шрифт, содержащий только выбранные пользователем символы. Напомню для начала, в чём плюсы и минусы такого подхода по сравнению с теми же изображениями.
Плюсы
символы можно масштабировать как угодно, они не теряют своего качества;
занимают мало места;
к символам применимы стилевые свойства вроде изменения цвета, фона, добавления тени, повороты и др.;
символы легко добавлять практически к любому элементу через псевдоэлементы ::before и ::after .
Минусы
символы одноцветные;
могут несколько различаться в разных операционных системах;
символы не ко всем элементам можно добавить;
нельзя отредактировать на свой вкус.
Сервис Fontello действует довольно просто: вы отмечаете символы, которые вам нравятся, и нажимаете кнопку «Download webfont» (рис. 1).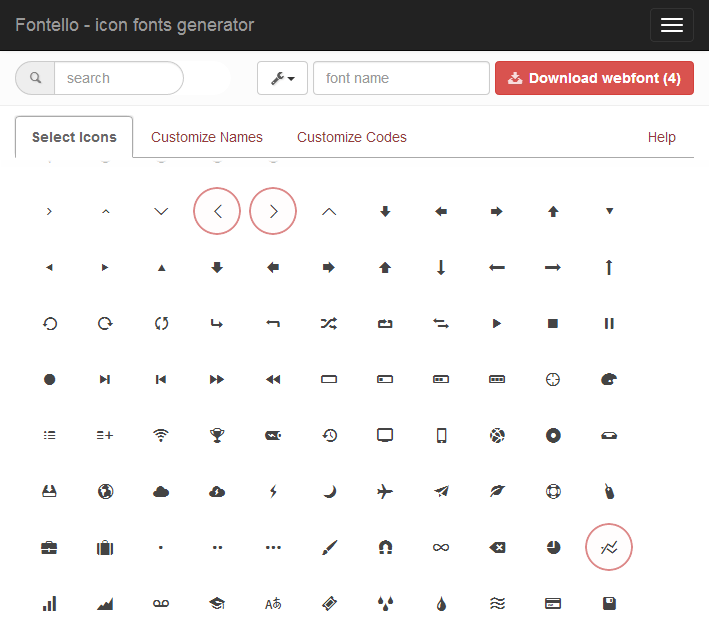 Рис. 1. Fontello с выбранными шрифтами
Внутри скачанного архива содержится шрифт fontello в четырёх разных форматах: ttf, svg, eot и woff. Это гарантирует, что в любом браузере, даже устаревшем, какой-то из них будет обязательно работать. Здесь же лежит demo.html, показывающий работу символов в качестве иконок и куча стилевых файлов на все случаи жизни. Некоторые, к примеру, нужны для работы IE7, который не понимает свойство content , а без него у нас возникают сложности с выводом иконок. Впрочем, будем оптимистично считать, что время IE7 уже позади и им никто в зрелом рассудке пользоваться не станет. Так что ориентируемся на современные браузеры, а здесь всё просто.
Нам требуется две вещи: папка font целиком, она, напомню, хранит четыре шрифтовых файла в разном формате, и коды символов. Их можно посмотреть в файле fontello.css или на сайте во вкладке «Customize Codes» (рис. 2).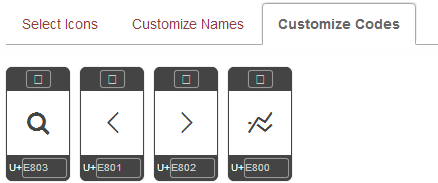 Рис. 2. Код символов
Можно пойти и более простым путём и просто подключить файл fontello.css к сайту или скопировать содержимое в свой CSS и отредактировать по своему желанию.
Добавление иконок через стили делается в три этапа. Стиль я взял напрямую из fontello.css без дополнительного редактирования.
1. Подключаем файл шрифтов
Здесь важно правильно указать путь к шрифтам относительно CSS-файла. Браузеры из этого набора выберут и загрузят пользователю тот шрифт, который они понимают. В табл. 1 показано какие браузеры что «любят».
Табл. 1. Поддерживаемые форматы
Формат
Internet Explorer
Chrome
Opera
Safari
Firefox
Android
iOS
TTF
9.0+
4.0+
10.0+
3.1+
3.5+
2.2+
EOT
5.0-8.0
WOFF
9.0+
5.0+
3.6+
SVG
1.0+
9.0+
3.1+
3.5+
1.0+
2. Для элемента, где будет использоваться иконка, устанавливаем шрифт fontello.
Иконки мы будем определять через класс icon-* , поэтому такая запись говорит применить стилевые правила ко всем элементам, у которых класс начинается на icon- или icon- встречается в середине. Это на случай, если добавляется несколько классов одновременно. Плюс указывается псевдоэлемент :before , именно через него выводится символ.
3. Выводим символы по их коду через свойство content , работающее в связке с :before .
Теперь как это использовать. К любому элементу, где нужно показать иконку, добавляем класс с её именем, например, так.
В данном примере делается кнопка с иконкой.
Резюме
Сервис Fontello позволяет использовать только выбранные иконки, что существенно сокращает объём загружаемого файла шрифтов. У меня он получился менее 5 Кб и содержал четыре иконки. Объём шрифтов сравним с подобными картинками, файлы которых после оптимизации будут занимать примерно столько же или даже больше. Преимуществом же символов является их масштабируемость и вариабельность — мы можем использовать один и тот же символ множество раз с разными стилевыми параметрами.
В целом, если вам по дизайну подходят предлагаемые иконки, то Fontello надо задействовать обязательно.
Источник
Fancy Text Generator (𝓬𝓸𝓹𝔂 𝖆𝖓𝖉 𝓹𝓪𝓼𝓽𝓮)
A translator to convert normal text to fancy text which you can copy and paste.
Generating fancy text
So perhaps, you've generated some fancy text, and you're content that you can now copy and paste your fancy text in the comments section of funny cat videos, but perhaps you're wondering how it's even possible to change the font of your text? Is it some sort of hack? Are you copying and pasting an actual font?
Well, the answer is actually no — rather than generating fancy fonts, this converter creates fancy symbols. The explanation starts with unicode; an industry standard which creates the specification for thousands of different symbols and characters. All the characters that you see on your electronic devices, and printed in books, are likely specified by the unicode standard.
Unicode text
Amongst the hundreds of thousands of symbols which are in the unicode text specifications are certain characters which resemble, or are variations of the alphabet and other keyword symbols. For example, if we can take the phrase «thug life» and convert its characters into the fancy letters «𝖙𝖍𝖚𝖌 𝖑𝖎𝖋𝖊» which are a set of unicode symbols. These different sets of fancy text letters are scattered all throughout the unicode specification, and so to create a fancy text translator, it's just a matter of finding these sets of letters and symbols, and linking them to their normal alphabetical equivalents.
Unicode has a huge number of symbols, and so we're able to create other things like a wingdings translator too. Also if you're looking for messy text, or glitchy text, visit this creepy zalgo text generator (another translator on LingoJam).
Copy and paste
After generating your fancy text symbols, you can copy and paste the «fonts» to most websites and text processors. You could use it to generate a fancy Agario name (yep, weird text in agario is probably generated using a fancy text converter similar to this), to generate a creative-looking instagram, facebook, tumblr, or twitter post, for showing up n00bs on Steam, or just for sending messages full of beautiful text to your buddies.
The only exception is if your paste destination has a font which doesn't support some unicode characters. For example, you'll might find that some websites don't use a unicode font, or if they do, the font doesn't have all the characters required. In that case, you'll see a generic «box» in which was created when the browser tries to create a fancy letter. This doesn't mean there's an error with this translator, it just means the website's font doesn't support that character.
Mildly off topic, but you might also be interested in Facebook emojis — that's a massive searchable list of all the emojis that you can use in your Facebook posts and chat. And actually, I made an 🐌 Emoji Translator 🎲 which you might like.
Источник
Free Copy and Paste Font Generator
Type your text and see it in a dozen cool font styles. You can use it for your Instagram bio or Facebook messages!
Double Struck
Bold Serif
Bold Serif Italic
Bold Script
Blackletter
Blackletter Bold
Typewriter
All Mixed Up
Love Parenthesis
Leet Speak
Slashed
Tiny Caps
Japanese Style
Mirrored
Morse Code
How does our font generator work?
Our font generator works by taking normal text you input and converting it into a unique and fun font you can use. Here are the steps to complete this process:
Type your text into the font generator
Wait for the font generator to provide you with different styles
Choose the text style you like
Copy and paste into Instagram, Facebook, or other social media platforms
Different text styles resulting from the generator can include unique cursive, calligraphy, handwriting, and web script fonts. You can also choose to add different symbols and emojis as well.
Technically a font generator does not generate fonts. Instead, this type of text generator maps the inputted text to related, but 'fancier' symbols or characters that are part of the Unicode Standard.
What is Unicode?
Unicode is an internationally recognized standard for identifying the different characters we see on our computer screens.
Since computers only recognize zeros and ones (i.e. binary), each character is assigned a unique binary number. For example, the capital letter "A" has a Unicode character number of 65. A lowercase "a" has a Unicode character number of 97.
Unicode has over 137,000 characters consisting of your 'normal' characters, such as the text you're reading right now, and the fancier characters you get from a font changer.
Before the establishment of the Unicode Standard, there were hundreds of different systems, known as character encodings, used to assign numbers to the characters. As you can imagine, this can make it extremely difficult for computers to share text and data with each other.
Today, Unicode has made it much easier to share text and characters amongst different operating systems, smart devices, search engines, and more.
Fonts, symbols, and emojis
So what exactly happens when you execute a font copy and paste from our text font generator? Is it actually a font, or is it a symbol?
As mentioned, the text generator fonts you see are not actually fonts. Essentially, they are symbols assigned with a Unicode value.
When you type in your text, our custom font generator then seeks out similar (but 'fancier') glyphs within the Unicode Standard. Technically, the 'font' you see is not truly a font, but rather a symbol.
That's why you can't perform a direct copy and paste of a Comic Sans text into, say an Instagram or a Facebook bio. Rather, fonts are a set of graphics that you can apply to Unicode glyphs. It is the website owner who dictates the specific font used on a particular site.
Emojis work the same way as symbols. They each have a unique Unicode number allowing you to perform a font generator copy and paste to whatever platform you wish.
How do I get the generated font?
Getting the generated font is easy with our online font generator. All you need to do is highlight the generated font. Then, copy and paste to whatever platform you wish.
Most computers, processors, and devices will accept and be compatible with the generated 'font.' However, there can be some exceptions. For example, certain websites may not be able to support certain Unicode characters.
In these instances, you'll see a symbol of a box instead of your fancy font. This box is the default whenever a browser cannot support a certain character.
Ideas for how to use your generated font
The sky's the limit when it comes to generating fonts. Here are just some ideas to get you started:
Stand-out and impress your followers with a unique Instagram bio
Send interesting text messages to your friends and family
Use it as a cool nickname for your web-based game
Get noticed on online platforms like Discord, Reddit, or Quora
Make your YouTube video headline or descriptions exciting and fun
Create your digital signature with a cursive-style generated font
Design wedding invitations
Use these unique fonts in your emails
You can even use a unique font for your wifi network if your router allows
And more…
Why FontSpace
FontSpace is the number one choice for generating fun, exciting, and unique fonts.
Whether it's for your Instagram bio, getting noticed on YouTube, or creating that perfect digital signature, our generator has thousands of fonts you can choose from.
It is simple, intuitive, and easy to use, allowing you to explore endless variations! Best of all, utilize our font generator, free of charge!
On top of our font generator, we are a designer-centered website with over 64,000 free fonts to choose from. Unlike many of the other unethical font websites out there, we are completely legitimate, with all our fonts 100% licensed.
If you have any questions or issues with downloading or installing fonts, we are always here to help. We are also happy to receive any feedback or answer any questions you may have!
Источник
Webfont Generator
Usage: Click the «Upload Fonts» button, check the agreement and download your fonts. If you need more fine-grain control, choose the Expert option.
Font Lists
Find Fonts
CLASSIFICATIONS
455 Sans Serif
360 Display
215 Serif
87 Script
72 Slab Serif
65 Handdrawn
41 Monospaced
41 Dingbat
35 Retro
33 Novelty
29 Comic
27 Stencil
20 Blackletter
20 Calligraphic
15 Typewriter
7 Pixel
6 Programming
2 Grunge
TAGS
578 Paragraph
576 Display
145 Oblique
124 Headings
112 Bold
109 Sans Serif
99 Casual
86 All Caps
82 Contemporary
77 Retro
76 Calligraphic
76 Distressed
73 Grunge
73 Rough
71 Elegant
70 Sans, Geometric
70 Serif
69 Condensed
▼ Font Filter
DOWNLOADS
Show All
Local Only
Offsite Only
SORT BY
Alphabetical
Recent
Popular
Hot Today
▶ Languages

About Font Squirrel
Font Squirrel is your best resource for FREE, hand-picked, high-quality, commercial-use fonts. Even if that means we send you elsewhere to get them. more info
Connect
Font Squirrel relies on advertising in order to keep bringing you great new free fonts and to keep making improvements to the web font generator. If you are seeing this message, you probably have an ad blocker turned on. Please consider disabling it to see content from our partners.
Источник
Fancy Text Generator ᐈ #1 𝕮𝖔𝖔𝖑 & Stylish Text Fonts ✅
𝐹𝒶𝓃𝒸𝓎 𝒯𝑒𝓍𝓉 — Generate Online (っ◔◡◔)っ ♥ ℭ𝔬𝔬𝔩 ♥ and ⓢⓣⓨⓛⓘⓢⓗ Text Fonts with Symbols, Emojis ✅☆🥰➀ and Letters (easy copy & paste)
Welcome on one of the best fancy text generator website in our website you can generate almost all kinds of different different types of fancy text.
On our website you can generate almost unlimited different types of fancy texts, our website is not limited to certain stylish text fonts it has the ability to generate unlimited. I mean it has options where it's creating lots of different different types of stylish text fonts with the mixing of emojis and text faces with having lots of weird kinds of symbols.
A best converter to convert your normal text into fancy text which you can easly copy and paste.
And since this is one of the best fancy text generator websites that's why we call this website a fancytextguru.com because it's quick and generate almost all kinds of fancy text which are currently available on the internet right now.
Can I use this fancy font generator website for creating an attractive gaming name like on PUBG or Free Fire?
Of course, you can this website support almost all kinds of gaming platforms whether it's PUBG, Free Fire, or any other online game. It does not matter what game it is. it supports almost all kinds of gaming where it is permissible to add profile name that's it if you are able to add a profile name then you can use our text generator website to generate a unique attractive gaming profile name like. these
Источник